Job openings at Tri-State Industries - Tri-State Automation
We seek candidates who learn quickly, exceed expectations in job performance and work well on a team. If you are a team-oriented self-starter with a positive and respectful attitude looking for an opportunity to contribute and add value, you may well find a home at Tri-State Industries & Automation.
TSI & TSA offer employees competitive compensation and a safe and healthy work environment. We are an equal opportunity employer.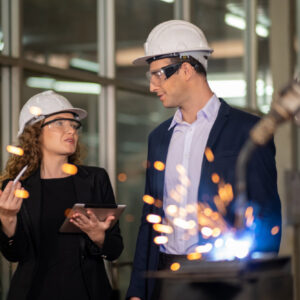 The Tooling Engineer is responsible for the planning, development, deployment, and execution of new tools and fixturing, changes to existing tools and the maintenance of existing tools for both business units. This position is in Hammond, Indiana.
The following list of job functions is not all-inclusive. The associate can be required to perform other job-related tasks/responsibilities requested by other team members. Job duties may change as required by needs of company.
Oversee all new tool builds and ensure tools/fixtures are delivered to internal specifications and best practices within timelines. Collaborate and communicate as needed externally with customers and suppliers as well as with team members to ensure the design for manufacturability and function.
Main decision maker for make/buy tooling related decisions for robotic welding systems, new processes, and process improvements. If buy, responsible for collaborating with outside tooling vendors by securing competitive quotes of top-quality work within acceptable timelines.
Develop and maintain the Tooling Cell related to machines, layout, tooling, and supplies. Technical skill set to fabricate all internal tooling related needs utilizing all equipment including CNC mills and lathes. Establish and maintain costs for tooling repair and maintenance.
Prioritize and direct tooling maintenance and repair activities for all PM's, routine service, and emergency repairs of tooling. Manage a tooling maintenance scheduling and tracking system that is visual, accurate, and adequate to meet all internal requirements factoring usages and downtime. Responsible for tracking and predicting tool life and obtaining replacement components in a proactive manner to support demand and ensure product quality.
Develop and maintain accurate engineering documentation with regards to solid models, assemblies, and prints.
Provide engineering and tooling floor support for all manufacturing and inspection processes.
Education
Requires Mechanical Engineering related technical training and tool making experience.
Communication skills
Positive and respectful attitude
Effective verbal and written communication and presentation skills that provide clear, informative, and logical information for projects and technical matters. Audience will include technical and non-technical and can extend from external and internal customers to suppliers.
Computer skills
Standard Engineering Software-i.e. Auto-Cad, MS Office, E-Mail
Tri-State Industries & Automation
Interested in other job opportunities?
Submit your info here and we'll contact you should your experience match a future job position.